Four contractors in the race for Google's £300m King's Cross HQ job, Building can reveal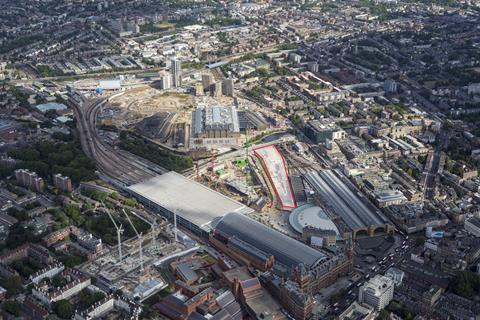 Balfour Beatty, Skanska, Carillion and Bam are in the hunt for Google's £300m King's Cross headquarters job, with bids expected to be finalised this week, Building can reveal.
The internet giant's King's Cross HQ will be one of the biggest office jobs to break ground in London in 2013 and has sparked interest among the capital's major office builders, with Balfour Beatty, Skanska, Carillion and Bam all asked to bid for the £300m main construction contract.
Google announced last week that it had completed the purchase of 2.4 acres of the 67 acre King's Cross development zone, which will be used to site the 1 million sq ft HQ. The site is located immediately to the north of the new concourse at King's Cross station and sits to the east of King's Boulevard and south of the Regent's Canal.
The Allford Hall Monaghan Morris-designed building ranges in height from 7 to 11 storeys and will include retail units, with shops, cafes and restaurants.
The building is scheduled for completion in 2016, enabling Google employees to relocate from the firm's current premises in Victoria and Holborn.
Subject to reserved matters approval being received from Camden council – which is expected before Spring - construction is scheduled to start on the building in late 2013.