Two frontrunners emerge in race for prestigious job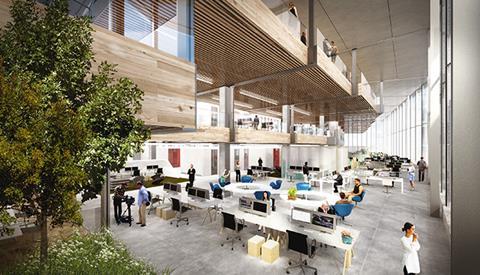 Mace and Sir Robert McAlpine are the frontrunners to build tech giant Google's new £650m headquarters in King's Cross.
The two are understood to be edging Lendlease in the race to build the 330m-long 10-storey groundscraper. Multiplex was also shortlisted for the job.
The building was redesigned by US-Danish architect BIG and Thomas Heatherwick after Google decided to redraw its plans for the site. The executive architect is BDP.
AHMM originally won the project four years ago but it was formally confirmed earlier this year that the practise was off the job.
The original AHMM-designed scheme was going to be built by Bam, but it is understood the contractor decided not to pitch this time around.
BIG and Heatherwick also designed Google's new global headquarters in Mountain View, California.
A decision is now expected early next year on who will build the 650,000ft2 of office space at what will be Google's third building at developer Argent's revamp of 67-acres in Kings Cross.
The firm currently occupies 380,000ft2 at the completed 6 Pancras Square and construction on a second building which the firm is leasing located further back at the Kings Cross site is due to be completed by Carillion in 2018.
Google will eventually be able to house 7,000 people across the three buildings totalling 1 million ft2.
Mace, Sir Robert McAlpine, Lendlease and Multiplex have been contacted for comment.