Exclusive: Scores of SMEs and the taxman to be left thousands of pounds out of pocket after firm liquidated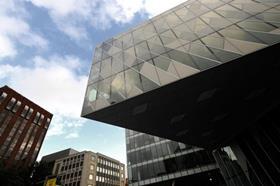 M&E specialist FT Gordon collapsed with half a million pounds of debts, with a host of small businesses set to be left thousands of pounds out of pocket, Building can reveal.
The Oldham-based firm - which worked for main contractors including Laing O'Rourke, Wates and Lovell - was closed down on 11 July by insolvency practitioner Bridgestones, with the firm liquidated this month and all 18 staff made redundant.
According to a statement of the company's affairs, posted on Companies House, the firm collapsed with £529,148 in debts, with a host of creditors, including small businesses and the tax man to be left out of pocket.
The statement said £25,784 in unpaid wages and holiday pay was also owed to the firm's employees.
However, there was only £5005 available in the pot to pay preferential creditors.
The debts included £78,253 owed to Edmundson Electrical; £73,417 owed to Moss Electrical NW; and £125,426 owed to Rooms Cable Systems.
The report also said £73,411 was also owed to HM Revenue & Customs for unpaid VAT and PAYE.
FT Gordon is one of a number of M&E contractors to fold in recent months after Leeds-based Airedale, Hampshire-based Specialist Engineering Contracts as well as three divisions of Rotary.
FT Gordon was established in 1960 and worked on a number of major projects in the north, including Manchester's No 1 Spinningfields Square (pictured) and BT's new telesales centre in Doncaster.
The news comes as yet another M&E specialist ceased trading, with chartered accountant Lovewell Blake appointed as liquidator for Knights Warner.
The M&E contractor had offices in Norfolk and Suffolk and had been trading for 70 years, with an annual turnover of £8m.
In a statement to the Eastern Daily press, the firm said: "It was with much regret and sadness that the directors of Knights Warner Limited had to make the difficult decision that the company should cease trading on August 14, after almost 70 years of trading.
"The company is another victim of the effects of the economic downturn that has had a drastic effect on the construction industry.
"In order to remain competitive and win contracts, the company had to work to ever reducing margins and as a result of this and not being able to satisfactorily agree the final accounts on several large contracts, the continuation of the business was no longer viable.
"The company employed approximately 50 staff, working out of offices at Lowestoft and King's Lynn, all of whom have been made redundant.
"Unfortunately, the immediate cessation of trading has meant that the company has been unable to complete work which was in progress on a number of sites across the region."