'Last man standing', union Unite, secures settlement in blacklisting court case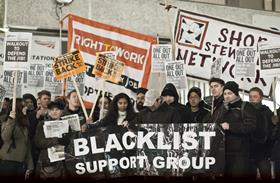 A further 97 blacklisting victims seeking compensation from contractors in the High Court have accepted pay-outs.
Union Unite - the 'last man standing' in the case after other victims' groups settled late last month - said it had settled the remaining claims it had against eight contractors collectively known as the Macfarlanes Defendants.
Unite claimed it had secured a further £4m in compensation for these 97 claimants, taking the total pay-out for all 256 victims it had represented to over £10m.
In a statement the Macfarlanes Defendants - Balfour Beatty, Carillion, Costain, Kier, Laing O'Rourke, Sir Robert McAlpine, Skanska UK and Vinci - confirmed they had settled with Unite, adding this "brings to a close all the claims in the litigation". But a spokesperson for the firms declined to comment on the settlement amounts.
Unite and the Macfarlanes Defendants said all parties had agreed to read a joint statement in court as part of the settlement. Victims' group the Blacklist Support Group said it expected this to happen on Wednesday (11 May).
Unite had only last week gone to court to defer the start of the full hearing after the other blacklisting victims groups – Ucatt, Blacklist Support Group, GMB - in the case settled their claims.
The blacklisting High Court action began in 2013 with 86 workers from the Blacklist Support Group. Numbers swelled to over 700 claimants represented by four separate legal teams.
The legal action followed the 2009 discovery of a database of over 3,000 construction workers kept by The Consulting Association.
The firm was used by 44 companies to vet new recruits, including those known collectively as the Macfarlanes Defendants. Those not represented by Macfarlanes included Cleveland Bridge, Amec, Bam and Lendlease.
Unite welcomed the settlements but repeated its call for a full public inquiry into blacklisting. Unite general secretary Len McCluskey said: "The sums to be paid out go a considerable way to acknowledge the hurt, suffering and loss of income our members and their families have been through over many years.

"Under the agreement they can once more apply for jobs in the construction industry without fear of discrimination," he added.

Unite director of legal services Howard Beckett said: "In addition to financial compensation, admissions of guilt and formal apologies, the companies have agreed, as a result of this litigation, to issue guidance to site managers to ensure blacklisting is not occurring on a local level and to ensure that Unite members receive no less favourable treatment for job applications, as a result of this litigation."
In its statement the Macfarlanes Defendants added: "These construction companies wish to draw a line under this matter and continue to work together with the trade unions at national, regional and site level to ensure that the modern UK construction industry provides the highest standards of employment and HR practice for its workforce."
In total the Macfarlanes Defendants represent 30 group companies and four individuals.