Construction group targets £1.5bn turnover construction division by 2018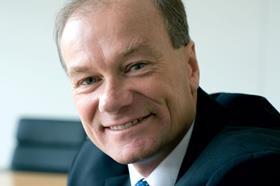 Galliford Try has announced plans to grow its construction division to £1.5bn turnover within three years, in strong half-year results published today.
The construction group said it had revised up its revenue target for its construction division to £1.5bn for 2018, up from its previous £1.25bn target, thanks to increased confidence in an "improving market".
Galliford Try's construction division turned over £833m in its last set of full-year results to June 2014, but expanded significantly a month later in July 2014 with the acquisition of the £410m-turnover construction division of Miller Group.
In today's half-year results for the six months to December 2014, Galliford's construction division reported a 52% increase in revenue to £604.8m, up from £398.1m the previous year, but with a slim profit margin of 1%.
Galliford expects construction's profit margin to rise to 2% by 2018. The firm said the integration of Miller Construction was now complete.
Galliford's construction order book almost tripled to £3.3bn, up from £1.3bn last year.
Galliford's overall half-year results - which include its housebuilding business Linden Homes - were strong.
Revenue was up 35% to £1.1bn, up from £803.5m, while pre-tax profit was up 12% to £42.5m, up from £38.1m.
Linden Homes grew 5% to £346.1m turnover, up from £328.1m, completed 1,364 homes, up from 1,278 homes, and achieve an operating margin of 15.1%, up from 13.5%.
Galliford Try said it was making "good progress" in its search for a new chief executive. Current chief executive Greg Fitzgerald (pictured) will step down later this year, as previously announced.
Fitzgerald said: "We are very pleased with the group's strong performance in the six months to 31 December 2014 with our housebuilding and construction businesses both performing well, and are encouraged by the start we have made to the second half of the year."