Firms likely to incur further losses on problem-plagued job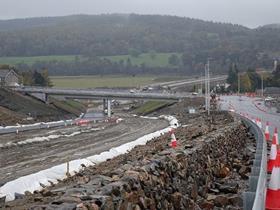 Balfour Beatty and Galliford Try are set to take further financial hits from their troublesome Aberdeen road job, with the local council seeking compensation for damage to surrounding roads.
A spokesperson for Aberdeenshire Council confirmed it was in active negotiations with the contractors for the cost of and repairs to local roads damaged by vehicles working on the Aberdeen Western Peripheral Route (AWPR).
The council said it was not yet possible to confirm the total number of damaged roads or the cost of their repair.
It said a final figure would only become available when a final date for the AWPR was confirmed.
A Transport Scotland spokesperson said the joint venture had provided assurances it had obtained permission to use the roads to access the AWPR site.
She said: "The contractor for the project, Aberdeen Roads Limited (ARL) [the Balfour Beatty/Galliford Try JV], has confirmed its project team hold regular coordination meetings with the relevant Roads Authorities. It also confirms it has obtained all permissions from Aberdeenshire Council to use the existing road network when required.
"ARL is currently in on-going dialogue with roads authorities but these discussions have not yet concluded."
The job, which is considered to be one of the key contracts that sunk Carillion, has already cost the remaining joint venture partners tens of millions of pounds.
Balfour Beatty's 2017 results confirmed that Carillion's implosion in January had already cost the firm £44m on the job.
In February, Galliford Try revealed in its results that it had taken a further £25m hit on the scheme on top of losses it announced on the job last year.
Both Balfour Beatty chief executive Leo Quinn and Bill Hocking, the head of construction at Galliford Try, have said they would never have bid for the road if they had been in charge at the time the deal was inked back in December 2014.
In March, Transport Scotland revealed it had been forced to amend the opening date until the autumn – meaning the road will be delivered a year late.
The transport authority said it had been caught off-guard by revelations in Balfour Beatty's results that the road was unlikely to be handed over before the summer, leading to a meeting that saw the date pushed back even further.
Galliford Try referred all inquiries to Transport Scotland, saying it was unable to comment due to the joint venture nature of the project.
Balfour Beatty was also contacted for comment.