Firm says chief excutive Greg Fitzgerald is set to retire, as it reports a sharp jump in revenue and profit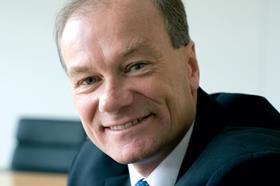 Galliford Try chief executive Greg Fitzgerald is to step down from his role after 33 years with the firm.
The announcement came as the contractor and housebuilder reported its results for the years to 30 June 2014, with group revenue rising 21% to £1.77bn and pre-tax profit up 28% to £95.2m.
The firm said that Fitzgerald had indicated to the board that he wanted to retire by the end of 2015, with the firm already putting in place measures to appoint his successor. Fitzgerald has been with the firm for 33 years.
Fitzgerald said the decision was a "personal one" and he remained "fully committed to delivering the company's growth strategy".
"As our full year results announced today demonstrate, the Group is in great shape, with a strong management team, and very well equipped for the future," he added.
The firm's growth was largely driven by the firm's housebuilding business, with Linden Homes posted a 20% jump in revenue to £760m and operating profit rising 37% to £115m, while the affordable homes business Galliford Try Partnerships more than doubled revenue to £243m, up from £97m the previous year, with operating profit rising from £1.4m to £5m.
However, while Galliford Try's construction business posted a 1.2% in rise in revenue to £833m, operating profit fell 38% to £8m, with the firm saying its construction margin had tightened to 1%, "owing to challenging conditions in the supply chain … leading to higher costs than we expected at the time we bid for some contracts".
The firm said the margin pressures were particularly acute in the building arm of its construction business, which posted a 13% rise in revenue to £458m, but saw operating profit halve from £6.5m to £3m.
Speaking to Building, Ken Gillespie, chief executive of Galliford Try's construction division, said, that he expected margins to rise to 2% by 2018 but that this would not happen "rapidly".
"I do expect it to improve from there [1%] and that's a reflection of the improving market conditions that we are seeing at the moment," he said.
Operating profit in the firm's infrastructure arm - also part of the construction business – also slipped, down from £6.4m to £5m, with revenue falling 10% to £375m.
The firm said that in the UK the construction market "remained challenging" but it was now "seeing more opportunities across the country and an improving order book".
In July, after the current results period, Galliford Try bought Miller Construction for £16.6m.
Gillespie said he expected synergy savings of over the £7m that the firm had previously predicted.
He also said one-off costs associated with the acquisition would be less than the £4m Galliford Try had forecast and added that the firm had cut 70 "back office" jobs as part of the integration.