Council will appoint permanent contractor to complete scheme this summer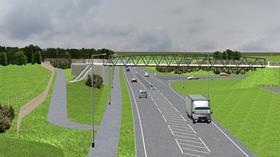 Galliford Try has temporarily taken over work on the £96m Lincoln Eastern Bypass after the county council cancelled its contract with Carillion.
Lincolnshire County council said it will look for a new firm to manage the project in the longer term, with an appointment likely in the summer.
It said it will try to ensure that the local Carillion team can continue to work on the bypass job, initially with Galliford Try and then the new contractor.
The council added this will encourage both firms to honour the existing arrangements with sub-contractors and suppliers but that these decisions will ultimately rest with the contractors themselves.
Over the coming months, Galliford Try will be carrying out work including highway connections to the existing road network and fencing.
And Bam Nuttall has also been brought in to take over ducting works around the perimeter of the proposed Washingborough roundabout, part of the same job, next month.
Work started on the 7.5km-long bypass in December 2016 when Network Rail began construction of a new railway bridge adjacent to Washingborough Road, enabling a new road to run under the railway.
The bypass, which will create a complete ring road around the city, is due for completion at the end of next year.
Last week, Galliford Try and Balfour Beatty said they will be out of pocket by up to £80m between them after Carillion's collapse.
The pair were working with the failed contractor on the £550m Aberdeen bypass scheme which is scheduled to complete this May.