Investors overwhelmingly approve £1.1bn sale of Linden Homes and Partnerships operation
Galliford Try shareholders have almost unanimously approved plans to sell the group's Linden Homes and Partnerships businesses to housebuilder Bovis.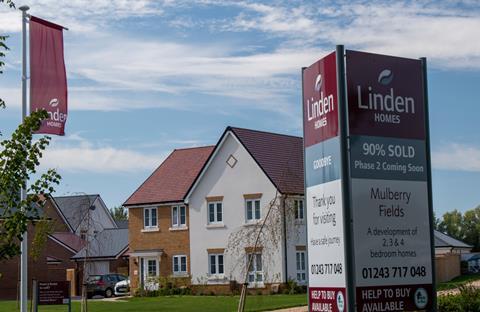 The £1.1bn deal was put to Galliford Try investors in a special vote today and was approved by 99.29% of the 78.3 million votes cast.
Shares in Galliford Try had dipped by 1% to 741p in afternoon trading.
Earlier this month, the companies announced they had agreed to a cash and shares deal which will see Galliford Try shareholders offered a £675m stake in Bovis, plus £300m in cash and a £100m debt swap.
The positive vote paves the way for Galliford Try to raise £675m by issuing new shares.
Bovis investors have yet to vote on the proposed acquisition, which if approved will create a top five housebuilder in the UK.
Once it has been given the nod by Bovis investors, the acquisition is expected to complete on 3 January.
Bovis is headed up by former Galliford Try boss Greg Fitzgerald, who took an unsuccessful tilt at his former employer back in May with a deal worth £950m and the absorption of £100m of debt.
Two years ago, Galliford Try had tried to buy a then-beleaguered Bovis for £1.2bn, but that approach was rejected.