Margaret Hodge report reveals players behind the controversial London bridge will pocket large sums even if project is scrapped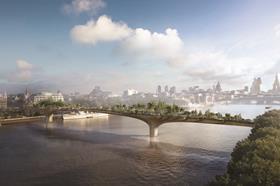 The project team on London's controversial Garden Bridge stand to pocket millions of pounds of taxpayers' money whether or not the project goes ahead.
A damning review into the Thomas Heatherwick-designed scheme, authored by former public accounts committee chair and Labour MP Margaret Hodge, puts the total cost of delivering it at "north of £200m", or of cancelling it now at £46.4m.
Hodge urged London mayor Sadiq Khan to cancel the project – which was originally meant to be privately financed, but faces a funding gap of "at least £70m" – to protect taxpayers from further costs.
The Garden Bridge Trust has a scheduled meeting with Khan's officials shortly after Easter, where it will present an updated business case for raising the private funds required to cover the £3.5m-a-year running costs. But it is understood Khan will not be present and the bridge's fate will not be decided at the meeting.
Hodge's report reveals the project's designer Heatherwick Studio had been paid £2.6m for work on the project by November last year, while Arup had been paid £8.4m by April 2015.
Meanwhile the joint venture between French contractor Bouygues and Italian steelwork contractor Cimolai, which signed a contract with client the Garden Bridge Trust to build the project in January 2016, stands to get paid an undisclosed amount if the project is cancelled.
The government and City Hall agreed to underwrite the "financial risks" of this contract, the report confirms.
Hodge's review does not provide a full breakdown for the £46.4m cancellation cost. But it states the project has already used £37.4m of public money before work has even begun - way above the £18.2m total cost of designing, building and completing the capital's Millennium Bridge down river, designed by Foster + Partners and Arup and built by Sir Robert McAlpine.
Bouygues and Arup referred commercial enquiries to the Garden Bridge Trust. Arup added it had no intention to cancel its contract with the Trust as a result of the Hodge report.
Hodge's review was also critical of the procurement processes run by Transport for London (TfL) in early 2013 that ultimately selected Heatherwick Studio as the bridge's designer and Arup as engineer and project manager.
This week one of the losing bidders in the design contest, Marks Barfield, hit out at the report's "shocking" revelations.
Neither procurement contest was "open, fair or competitive", Hodge said, adding her review had "revealed systemic failures and ineffective control systems at many levels".
Both Heatherwick Studio and Arup – which had been working on designs for the bridge with actress Joanna Lumley before the procurement processes was launched – got preferential treatment from TfL in their respective contests, including advice to reduce their fees to remain competitive, the report finds.
However, Hodge noted that she found "no evidence to suggest" Arup was aware it had been "singled out".
Hodge reports that TfL officials came under "pressure" from City Hall - then led by Boris Johnson - to speed through both procurements.
She added: "Decisions on the Garden Bridge were driven by electoral cycles rather than value for money".
A Heatherwick Studio spokesperson said: "We still believe in the immense public value the Garden Bridge will bring to London … We reasonably relied on the professionalism of public officials to ensure proper process was followed."
Sir Mervyn Davies, chair of the Garden Bridge Trust, said: "We will be studying the report in detail and seeking a meeting with the mayor of London to discuss next steps."