Sadiq Khan announces the investment and renews support for second runway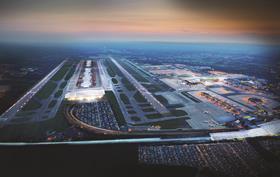 Gatwick has announced it will invest an extra £200m in improvements to its existing airport buildings.
The investment was unveiled at an event at the airport by Mayor of London Sadiq Khan, who reiterated his support for Gatwick expansion, rather than third runway at Heathrow.
Khan said: "The new prime minister has a very important decision to make regarding new airport capacity, and I urge her to rule as swiftly as possible in favour of a second runway at Gatwick, which would bring substantial economic benefits."
Gatwick's investment comes on top of its existing spending programme, taking its capital investment plan for the next five years to £1.2bn.
Some of the new projects announced today include expansion of both the north and south terminal departure lounges, upgrading shopping facilities, expansion of the immigration halls at both terminals, and additional aircraft parking stands and taxiway upgrades.
Gatwick said it has also identified new projects to provide additional capacity for future passengers while a decision on expansion is awaited.