Gatwick airport has scrapped plans to build a £60m heat and power plant on its site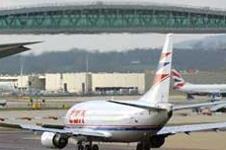 Currently the airport produces much of its energy to heat and cool both its terminals at its own power plants but the facilities vary in age and performance.
Last July, the firm tendered for a contractor to "design, build, operate and maintain energy generation and supply plant infrastructures at Gatwick Airport".
Now, however, the plans have been shelved following a review. A spokesperson said: "We have withdrawn from the process of building an energy centre at Gatwick, following review of the environmental benefits and current economic and legislative considerations in the energy market."
She added that the airport remained committed to its plan to reduce energy and carbon usage by 20% and 50% respectively by 2020.
Building understands contracting giant Balfour Beatty was among those interested in designing and building the power plant.
The airport is currently in the middle of £1.2bn investment programme including building new terminal space, resurfacing its runway and erecting docking areas for aircraft.
As Building reported last week, contractor Vinci is tipped to win a £100m job to build a new baggage facility and a replacement for Pier 1, which would see it beat out contractors Balfour Beatty and Mace.