Directors frustrated that short-term cash issues caused firm's collapse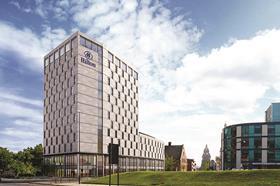 Directors of GB Building have shared their shock and "devastation" at the collapse of the firm due to a cash-flow problem.
In a statement the board said the company was forced into administration due to "short-term working capital issues", with administrators BDO looking to find a buyer for the development arms of the business.
The GB board statement said: "We are absolutely devastated by the events of last week and are extremely frustrated that we haven't been able to find a solution to the group's short-term working capital issues.
"As a board, and in conjunction with our restructuring specialist advisers BDO, over the last few weeks we have had many meetings and discussions to look at rescue options and to try to source additional funding.
"However, by Wednesday of last week it became clear that to protect our creditors, we had no option but to take the extremely difficult decision as a board to commence the process towards appointing an administrator."
GB Group Holdings and GB Building Solutions Limited were put into administration on March 9 with Tony Nygate and Graham Newton of BDO taking full control of assets of the company.
More than a dozen construction projects could be hit by the collage of the two firms which have made 350 staff redundant. BDO refused to provide details of all projects affected, but confirmed that GB Group Holdings and GB Building Solutions staff had been pulled from 17 schemes Building is aware of.
Among them are a £32m student housing development in west London called The Collective Old Oak; a £32m Leeds Hilton hotel scheme (pictured), and CNM Estates' £29m Kingston Plaza student development in south-west London.
BDO said GB Building Solutions staff had also been taken off two developments on Greenwich Peninsula - plots M0116 and M0117, which are providing a total of 300 apartments for Knight Dragon with a combined project value of £45m.
It has also ceased work on an £8m Premier Inn in Sunderland city centre and a £7m care home in Barrow-in-Furness for Cumbria county council.
BDO are looking to find buyers for two subsidiaries of the businesses which were not put into administration, GB Development Solutions and Oxford GB2.
The board statement added: "We regret that this necessary action has caused hardship for our customers, supply chain and our loyal and hardworking staff (who have now been made redundant).
"We did everything we possibly could to rescue the business; however, in the end this was the only route available to try to secure relief for our creditors."