US giant now has 2,500 architects as Foster's remains biggest UK firm
US practice Gensler remains the biggest architect in the world with fees now more than double that of the next best rival, according to this year's WA Top 100.
Gensler, which earlier this year opened its first UK office outside London with an office in Birmingham, now employs 2,570 architects, 271 more than it did last year.
The firm had a fees income of $1 billion to $1.5 billion – head and shoulders above second-placed Nikken Sekkei's $500 million to $599 million.
But the Japanese practice, which employs 1,796 architects, has risen up the rankings for 2017, switching places with 2016's runner-up, Aecom, which is now third.
The figures come as Building's sister publication BD gets ready to publish its annual survey of the world's largest practices ranked by the number of fee-earning architects they employ.
In total, the top 10 WA100 firms employed 12,136 architects although this was a 2.7% decline on 2016's number.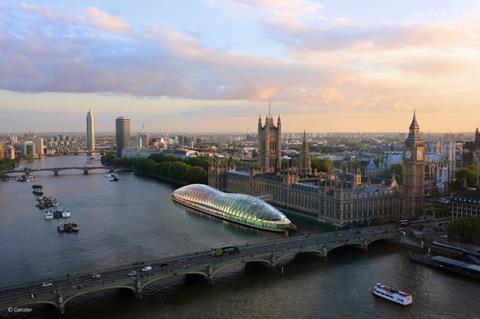 Foster & Partners remains the biggest UK practice in 14th spot with 671 architects employed – the same position as last year when it employed 666 architects. The next best placed British firm is Atkins in 33rd spot with 369 architects employed.
Gensler, which hit the headlines this autumn when Labour leader Jeremy Corbyn backed its plans for a floating Parliament as an alternative to proposals to move MPs and Peers out of the Palace of Westminster during upcoming refurbishment work, said focussing on the resurgent North American market had paid dividends.
Its co-chief executive Diane Hoskins added: "Many firms who went global decreased their focus on the US."
The practice has been swapping the top spot with Aecom in recent years but the number of architects employed by the US multi-disciplinary slipped to 1,491, down from 2,100 last year.
Aecom said the fall was a paper one, resulting from the creation of interdisciplinary teams whose architecturally-trained staff were not counted in the latest figures.
The firm's EMIA architecture leader Jennifer Dixon added: "It means the only ones we can really count are the ones who are generating architectural fees for traditional architectural services. We've got quite a lot of architects in infrastructure, development-funding, operations, and cost management."
Elsewhere, expectations for growth over the next 12 months fell with 60% of respondents reckoning business will improve during the next year, compared to 74% for the previous year. Hotspots for 2017 will continue to be North America and central Asia, which includes India.
But the outlook for Europe is less good with around 70% of respondents predicting no growth or a declining market in Western Europe.
And following the UK's decision to leave the EU, optimism about growing workloads here has collapsed – with just 1% saying the UK was the country that offered the most growth potential compared to 14% last time.
The top 10 practices are dominated by North American firms with five US and one Canadian. The WA100's highest-placed new entrant is Paris-based practice AREP which has eight overseas offices.
New entrants into this year's Top 100 include Feilden Clegg Bradley Studios and TP Bennett.
BD editor Thomas Lane said the big question centred on the impact of incoming US president Donald Trump. "If he sticks to his pledge to spend $1 trillion on rebuilding America's crumbling infrastructure, then architects, particularly the 21% of firms making up the top 100 that are US-based, should do very well."
How to access the WA100 2017 survey
ONLINE
BD subscribers will be able to access the survey at worldarchitecture100.com
PDF
A downloadable pdf of WA100 2017 is available to purchase online for £31.36 + VAT.
Go to bdonline.co.uk/wa-100/digital
PRINT
BD subscribers should receive a print copy of this supplement before Christmas. To order extra print copies go to:
UK £37.85 + £2.99 postage
EU £37.85 + £3.99 postage
Rest of world £37.85 + £5.99 postage
To contact WA100 about the survey email wa100@ubm.com
For more on BD subscription packages go to bdonline.co.uk/subscribe