The contractor has been working on the Cambridge Mosque and AC Marriott Hotel in Belfast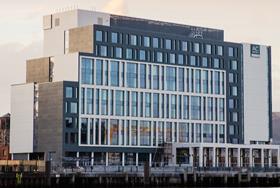 Belfast-based contractor Gilbert-Ash has reported a 50% hike in annual pre-tax profit after a year working on a series of key projects including the Cambridge Mosque.
The firm announced turnover for the year to the end of December 2017 had risen 12% to £165.5m, with operating profit up 40% to £2.1m.
Pre-tax profit grew 50% to £2.2m.
As well as working on the £19.5m Cambridge Mosque project, Gilbert-Ash was involved in the £21.5m build of the AC Marriott Hotel in Belfast (pictured) and the £20.5m new build of the Mountview Academy of Theatre Arts in Peckham, south London.
It also worked on schemes in a number of overseas markets, notably France, Hungary and Sri Lanka.
Currently the 174-strong firm is working on the Royal College of Music in London and continuing its relationship with leisure group Whitbread, delivering its new range of Premier Inn hub hotels.
Gilbert-Ash's managing director Ray Hutchinson said: "Whilst market conditions remain highly competitive, [these] results emphasise the continued success of our strategy to focus on our strengths and invest in national and international markets to deliver landmark buildings."