Building Live: Universities detail major planned schemes, but warn of 'very painful' construction cost rises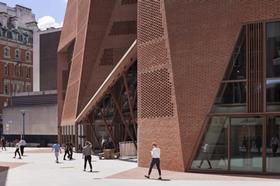 The University of Glasgow and the London School of Economics have shared their estate strategies and development plans with the Building Live conference.
Speaking at the event, Ann Allen, director of estates and buildings at the University of Glasgow, revealed the university has acquired 14,500 acres of land and has £165m to spend on construction projects.
Allen said: "We don't have the same market volatility as others have. At University of Glasgow, we have money to spend. You're looking at a sector with funding there. It's a huge opportunity."
Julian Robinson, director of estates at the London School of Economics, said the university has around "£500m capital" to spend on development programmes over the next 10 years.
Among the major projects planned at LSE include a £123m development due to be completed by 2019.
The university has also recently shortlisted six architects including David Chipperfield, Amanda Lavete and Herzog & de Meuron, following an international design competition, for another £100m plus redevelopment.
However, Robinson also criticised the local planning environment in London, describing land availability in the city as "excruciating", and also criticised cost inflation.
He said: "Construction costs are very painful. We can't pass the costs on, so we have to swallow them. That's a big issue for us."