Architect Page & Park working on plans for major newbuild and refurbishment project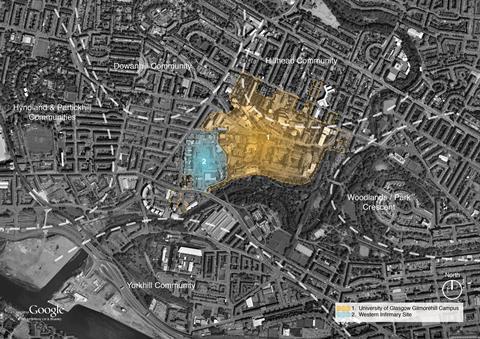 Glasgow University is to expand its campus in the west end of the city and says it will spend at least £135m on construction.
The university and a team led by architect Page & Park will now develop proposals for the 14-acre Western Infirmary site after "extensive consultation" with the local community and other public bodies including Glasgow City Council, the Scottish government and Scottish Enterprise.
Professor Anton Muscatelli, principal and vice-chancellor of the university, said: "This is as significant a development in the ongoing story of the University of Glasgow as the relocation to Gilmorehill from the city centre was in 1870.
"The acquisition of the Western Infirmary site will allow us a unique opportunity to provide modern, fit for purpose facilities that are in keeping with Glasgow's status as a world leading research-intensive university.
Muscatelli said the university was "committed to investing at least £80m in new buildings and equipment and £55m in refurbishing facilities over the next five years".
The university handed over the land in 1878 on the condition that it could re-acquire the site if it was no longer needed for healthcare.
The Western Infirmary will close when the new South Glasgow Hospital opens in 2015.