Sheffield-based firm reveals target as it announces a 13% hike in turnover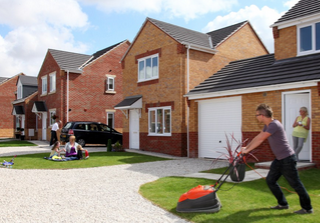 Gleeson has set itself a target of doubling the number of homes it builds annually to 2,000 units by 2022.
The Sheffield-based firm revealed the new goal as it announced a 13% hike in revenue for year to the end of June 2017 to £160.4m, while pre-tax profit rose 17% to £33m. A final dividend of 24p, up 66%, would be paid to shareholders, it added.
The group's housebuilding operation, which focuses on the North of England, delivered 1,013 homes, up 12%, selling for an average price of £122,700, slightly down on the previous year due to what it called legacy issues relating to one site and the mix of units it sold.
And Gleeson's strategic land business, much of which is focused in and around the south east of the UK, sold eight sites during the year, generated an operating profit of £12m, up 18%.
Chief executive Jolyon Harrison said that two thirds of people buying a Gleeson home used 'Help To Buy' finance, while 'typical' customers were "blue collar workers aged between 18 and 33".
"Helping young people out of housing poverty and the rent trap is very rewarding in every way and our responsible business model endeavours to work with our customers and engage with them to our mutual benefit."
Glesson stipulates that some properties, such as those sold in Newcomen Park, Cleveland (pictured), are only sold to first-time buyers who are currently living in rented accommodation, live within two miles of the site and are using 'Help To Buy'.
And in the wake of recent controversy over leasehold houses, Harrison said he "never understood the need to sell properties leasehold" and the group only had two such properties, "as stipulated by Burnley council", where the ground rent had been reduced "to a peppercorn".
In early trading shares in the group were up 4% to 645p.