Union says it will launch High Court action against Carillion 'shortly'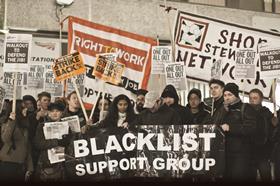 The GMB's blacklisting legal case has swelled to over a hundred claimants, the union has said today.
The GMB, which has been preparing a High Court claim against Carillion for compensation for those impacted by blacklisting in the construction industry, said today that its action now included "over one hundred GMB members".
Paul Kenny, GMB general secretary, said: "GMB will force the companies to apologise and compensate those they blacklisted. GMB will also call to account all the managers and the human resources professionals who organized the whole thing for 20 years.
"GMB is about to launch a High Court action involving over one hundred GMB members, and we would encourage anyone unrepresented to join or support us."
It is not yet clear if GMB will now be targeting companies other than Carillion.
As Building has previously reported, if each claimant in the High Court action claimed an average of £80,000 in lost earnings - something of a conservative estimate, according to many - this would add up to over £8m in claims against Carillion.