Actions of contractors to be discussed at annual party conference in Manchester on Monday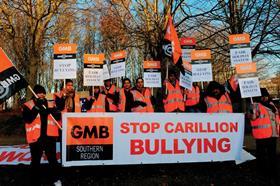 The long-running dispute over blacklisting in the construction industry is to come under the spotlight at the Labour Party conference next week, after the GMB moved a motion to be debated on the issue.
The motion, to be debated at the conference in Manchester on Mondat (1 October), will treat blacklisting as an example of the disregard of fair employment practices.
It mentions contractors Carillion, Balfour Beatty and Laing O'Rourke and relates to the 40 firms found to have paid an annual fee to a firm known as the Consulting Association for access to 3,213 workers' union histories, personal relationship information and employment records.
This was uncovered by the Information Commissioner's Office (ICO) after it raided the organisation's offices in 2009. The GMB is preparing a class action law suit against construction firms on behalf of workers in relation to blacklisting.
This month Building revealed that the ICO has agreed to allow lawyers acting for the GMB to view the list and identify its members. This week the ICO said it was also examining the "practicalities" of contacting people on the list.