Despite concerns the revised plans to accommodate Facebook at Rathbone Place have been aproved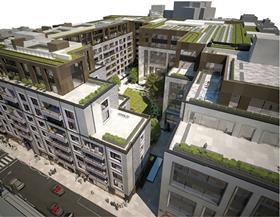 Westminster council has approved changes to Great Portland Estates' £350m redevelopment of the former Royal Mail depot behind Oxford Street.
Revised plans were submitted after GPE signed up social media giant Facebook as sole tenant of the scheme's office space.
Rathbone Place originally conceived as a speculative mixed-use scheme on Newman Street in London's West End winning planning permission in 2013.
However, the office space at 33,000 sqm was slightly too small for Facebook's requirements for its new European headquarters so the architect took it back to the drawing board.
Make's revised scheme reconfigures some of the retail space and entrances to create an extra 1,275sq m of offices.
Planning officers had expressed concern about loss of the retail at ground level as this was considered one of the "merits" of the approved scheme.
But they recommended the changes for approval because they felt the "prestige and wider economic benefits" of Facebook moving to the area outweighed the loss of lively frontage.
The approval has though cost the developer an extra £1m, which goes towards the council's "affordable" housing fund because of a ratio tied to the increase in office space.
Cllr Robert Davis, Westminster City Council's cabinet member for the built environment, said he was delighted the building would now be home to Facebook, adding that he hoped it will "fire the imagination of Westminster's own young Mark Zuckerbergs".

Cllr Philippa Roe, leader of Westminster City Council said: "Facebook's new expanded London HQ will bring jobs and help to cement Westminster's position as a digital business hub."

The 0.9ha site in Fitzrovia has frontages on both Rathbone Place and Newman Street and was once overlooked by Banksy's One Nation Under CCTV mural – until Westminster council ordered its removal in 2008.
A new pedestrian route will lead from both streets into a central, privately managed space containing cafe tables.
It is due for completion in June 2017, in time for the opening of Crossrail.