Lendlease, Mace, Multiplex and Sir Robert McAlpine all in the running for £650m contract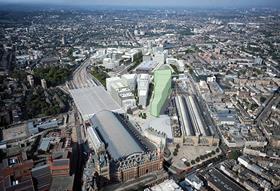 Google is set to decide before the end of the year who has won the £650m contract to build the tech giant's new headquarters in King's Cross.
Lendlease, Mace, Multiplex and Sir Robert McAlpine will all make their presentations for the scheme by the end of next week with the US firm set to announce the winner before Christmas.
Competition for the job is expected to be intense and one bidder admitted: "This is the major office scheme going right now. We've thrown the kitchen sink at it and everyone else has as well."
Building understands that Google wants to get on site by the end of 2017 with the 330m long, 10-storey groundscraper (pictured) set to be as long as Renzo Piano's Shard is high.
The building has been redesigned by US-Danish architect BIG and Thomas Heatherwick, the man behind the delayed Garden Bridge in central London, after it was formally confirmed earlier this year that original architect, AHMM, was off the job.
AHMM, last year's Stirling prize winner, was appointed to the King's Cross project four years ago but the scheme was hit by a series of delays as Google decided to redraw its plans. The AHMM scheme was originally due to have been built by Bam, but it is understood the contractor decided not to pitch this time around.
The redesigned building will be the first wholly owned and designed Google building outside of the US. The scheme's architects are also behind a new global headquarters for the tech giant at its home at Mountain View in California.
BIG and Heatherwick's plan for Google's London base will create 650,000ft2 of office space. The executive architect is BDP.
Google boss Sundar Pichai said: "We are committed to the UK and excited to continue our investment in our new King's Cross campus."
Google also has another two buildings at King's Cross, including 380,000ft2 at the completed 6 Pancras Square.
Construction on the second building, situated further back on the King's Cross site, is due to be completed by Carillion in 2018.
Google will eventually be able to house 7,000 people across the three buildings totalling 1 million ft2.