Temporary structure has £17m pricetag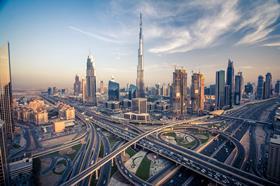 The government is looking for a contractor to build a £17m pavilion for the Dubai World Expo 2020.
The 'world fair' will see 132 countries come together in a 4km2 space between Dubai and Abu Dhabi, with 24 million visitors expected to attend the site between October next year and April 2021.
In March the government kick-started its search for an architect to design the pavilion, with previous winners inclduing Thomas Heatherwick.
And now the government is looking for a contractor to build, fit out, maintain and take down the UK pavilion.
Requirments set out in an OJEU notice by the Department for International Trade says the constrution must be "in accordance with the design theme of 'Innovating for a Shared Future' as interpreted by the winning design".
A number of contractors have been invited to express interest in the scheme with these submission due back by 24 October. Five firms will be shortlisted. The contract is expected to begin in April next year and end in October 2021.
The contract will contain a possible extension to complete takedown of the pavilion and carry out legacy work.
The site masterplan for the Expo 2020 Dubai was designed by American firm HOK and is organised around a central plaza enclosed by three large pavilions.
The construction contract for these pavilions were given to Al-Futtaim Carillion, a JV between the Dubai-based conglomerate and the now collapsed British contractor.