Deal with RICS agreed over weekend
Homeowners in buildings without cladding will no longer need an EWS1 fire safety form to sell or re-mortgage their property, the government has said.
The announcement is set to liberate hundreds of thousands of homeowners who have been caught up in the crisis over the forms, which have been required by mortgage lenders before a property can be sold or remortgaged.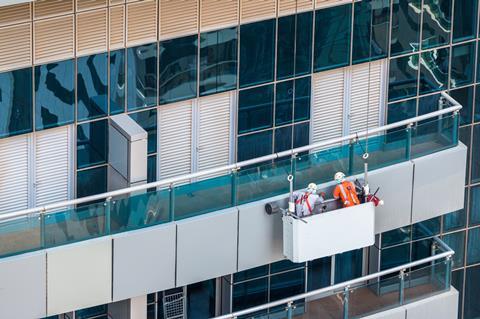 First introduced by RICS in December 2019, the forms were originally intended to provide mortgage lenders with an assessment of the fire safety of external walls in buildings above 18m in height.
But after the government toughened its ban on combustible cladding on buildings above 18m to include buildings above 11m, mortgage lenders have sought the forms on a much wider range of buildings, including ones without any cladding.
It has seen homeowners across the UK unable to sell or remortgage their homes, a situation exacerbated by a dire shortage in the number of fire safety professionals qualified to sign the forms – just 291 according to MHCLG.
But over the weekend, the government announced that it had reached an agreement with RICS that the nearly 431,000 leaseholders in buildings without cladding would no longer need the forms.
The government has also pledged nearly £700,000 to train more fire safety assessors to carry out the EWS1 inspections from January.
The funding would mean up to 200 more assessors will be qualified to sign the forms within a month, 900 within three months, and 2,000 within six months, the government said.
It added that RICS will be working with lenders, valuers and fire safety bodies to develop new advice for surveyors to enable them to "take a more proportionate approach" and reduce the number of buildings which need an EWS1 assessment.
Communities secretary Robert Jenrick said the new measures would provide "certainty" for homeowners who have "felt stuck in limbo" during the crisis.
He added: "I welcome the support we have received from RICS and industry to resolve this matter and will be working urgently with lenders to resolve these challenges, ensuring that EWS1 forms are requested only where absolutely necessary and that the number of surveyors able to complete them is increased urgently to meet demand."
But he admitted that the measures were "only part of a wider solution".
According to government figures published alongside the announcements, two thirds of residential buildings over 18m in height included some form of cladding.
There are 12,500 residential buildings above 18m or more than six storeys in England and another 77,500 buildings between 11m and 18m in height.
Meanwhile, nearly half of high rise buildings in England which have been identified as containing the type of cladding fitted to the Grenfell Tower still have it at least partially in place.
According to the housing department's building safety update for October, 44% of high-rise buildings, or 203 buildings, have still not removed all of their aluminium composite material (ACM) – the type blamed for the 2017 Grenfell fire.
And more than three years after the disaster at the west London tower block, there are still 17 high-rise buildings in England which have no plan in place to remove their ACM cladding – a number which remains unchanged since the last update in September.