Construction minister says EDF's measures are 'robust and comprehensive'
The government has reassured MPs that it is confident in the covid-19 safety measures in place at the Hinkley Point C construction site.
Construction minister Nadhim Zahawi said that inspectors from the Office for Nuclear Regulation (ONR) have continued to travel to the Hinkley Point C site throughout the pandemic to conduct "urgent and essential regulatory inspections".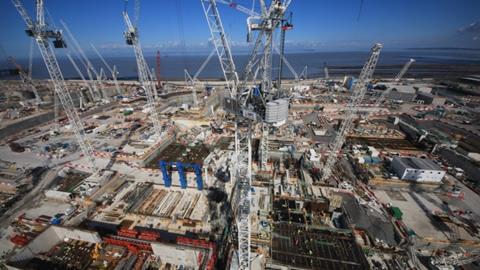 Zahawi said: "These are to ensure that both the normal stringent health and safety requirements, and the covid-19 social distancing measures, are being properly followed.
"The ONR's chief inspector has assured the department that he is satisfied that EDF's measures at the site are robust and comprehensive, and that they are being implemented and enforced appropriately."
Zahawi's comments came in response to a written question from Labour MP Sarah Owen.
In its most recent covid-19 update, EDF said it had introduced extra measures on site to keep the workforce and surrounding community safe from the second covid-19 wave.
Nigel Cann, construction delivery director at Hinkley Point C, said: "Our testing regime and track and trace system have helped us identify cases early and to break the chain of infection. All new starters are tested before they join the project.
"Temperature checks, extra cleaning, social distancing and mask wearing all remain in force to prevent the spread of infection."
Cann said there had been concern about workers coming to the site from areas of high infection and as a result, EDF was increasing its testing capability so that it was able to test workers returning from high risk areas.
He said: "They will be able to get a test and their result without the need to leave their car. Anyone who gets a positive test result will be supported to safely transfer to self-isolation in line with the current government advice."