Transport secretary Patrick McLouglin also backs redevelopment of Euston in response to Higgins report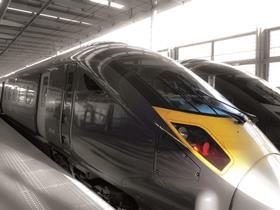 The government has backed a series of proposals by HS2 chair David Higgins to cut the cost of the proposed north-south high speed rail network.
In his response to Higgins' report, published this morning, transport secretary Patrick McLoughlin backed Higgins' proposal to ditch plans for a £700m link between HS2 and HS1 and supported the major redevelopment of Euston station, including the rebuilding of the demolished Euston Arch (see right).
He also commissioned Network Rail and HS2 Ltd to "make recommendations" for Higgins' central proposal – to bring forward by three years the timescale for the second phase of HS2 linking Brimingham, Manchester and Leeds.
McLoughlin said the HS2 to HS1 link was being dropped due to its high impact on "freight, passengers and the community of Camden" and provision for the link will be removed from the High Speed Rail bill.
McLoughlin also backed Higgins' call to redevelop Euston station and will ask HS2 Ltd and Network Rail to work up proposals for its redevelopment and attracting private sector investment for the works.
He said the works should include rebuilding Euston Arch "which should never have been knocked down and which I would like to see rebuilt".