Housing select committee had suggested linking public subsidies for developers to MMC use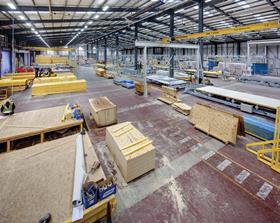 The government has ignored a call for it to require developers benefitting from public funds to use modern methods of construction (MMC).
In a report published earlier this year, the housing select committee set out 21 recommendations for government to help boost the use of MMC.
The cross-party select committee, which is headed by veteran Labour MP Clive Betts, said government should consider forcing housebuilders who benefit from public funds – including Help to Buy scheme – to use MMC techniques.
The committee added the move would "aggregate demand for MMC products and bolster domestic supply chains".
But in its response to the select committee's findings, the government rejected suggestion, saying: "There are currently no plans to make the use of MMC a requirement for these funding schemes to ensure we continue to create conditions for the industry to innovate and avoid focusing only on the frontrunners in the sector."
It added: "We will continue to encourage beneficiaries of the funds to make use of MMC where appropriate."
Government also rejected a call for it to record how many components for MMC homes are imported and set targets to reduce their use while increasing the number of UK manufactured components.
And it hit back at a recommendation to "identify types of MMC that work best and can be used at scale" which the housing select committee said would also help create an economy of scale.
The government said: "Homes England does not believe that any one type or types of MMC technology will provide the answer to the housing shortage across the country. All types may have a part to play and what is suitable and viable on one site may not be appropriate on another."
The government also failed to commit to another suggestion from the committee to monitor and report on how much the housing department is spending on helping MMC developments.
Bill McElroy, head of industry strategy at Turner & Townsend, said: "If the government's ambition is to support the sector to 'go further and faster' on MMC, then we need to see a renewed commitment to extend [current] programmes and pursue new ones too."
In a foreword to the government response, housing minister Robert Jenrick said: "The more we modernise the process of building and make construction an exciting place to work, the more we will keep experienced staff in the industry and attract a new, diverse workforce of talented young people.
"Diversifying the market and ensuring it delivers a greater variety of products will not only result in the delivery of additional homes but will also increase market resilience."