Procurement of new fleet of Crossrail trains will now be 100% publically-funded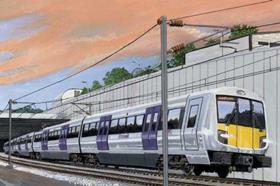 The government has scrapped plans to use its UK Guarantees scheme to underwrite a £1bn order of new trains for London's £15bn Crossrail line.
The move comes as the government, the Mayor of London and Transport for London announced today that the £1bn procurement of a fleet of trains and maintenance facilities for the east-west Crossrail line would be fully publically funded.
Chief secretary to the Treasury Danny Alexander had announced last September that the Crossrail rolling stock contract would be the first project to be underwritten through the UK Guarantees scheme, which aims to underwrite up to £40bn of major infrastructure projects.
Under that proposal, the public sector would have provided £350m in finance for the procurement, with the remainder to be funded through private finance and borrowing by TfL, with the financing underwritten by the government's guarantee.
However, the revised arrangement will see the public sector finance increase to 100% or around £1bn.
TfL said the change was proposed by the Mayor of London and agreed by the transport secretary Patrick McLoughlin in a bid to "simplify the procurement process … to ensure the timely delivery of the new trains ahead of services commencing".
TfL said arrangement would help to ensure a deal for the new trains would be in place in 2014, with delivery and testing starting in 2017 ready for the opening of the new tunnels to passengers in late 2018.
TFL said the UK Guarantee offer "was made only on the provision it would help accelerate delivery and offer value for money for the taxpayer".
"In light of the decision to fund the procurement publically, the government guarantee is no longer necessary," TfL added.
The move means just one project - the proposed extension of the Northern Line to Battersea Power Station - has now be granted a UK Guarantee since the scheme was launched last July, nearly nine months ago.