Ahead of autumn statement government unveils 84 planned schemes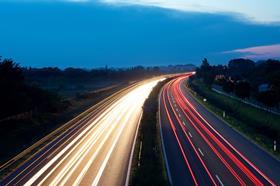 The government has announced a £15bn plan to triple levels of road spending by the end of the decade.
Transport secretary Patrick McLoughlin and Chief Secretary to the Treasury Danny Alexander said that the investment will deliver more than 100 new road schemes, 84 of which it says are new.
The projects are designed to deliver 1,300 new lane miles on motorways and trunk roads.
The announcement includes a £2bn commitment to dual the entire A303 and A358 to the south west, including a tunnel at Stonehenge, which will allow road users to drive on a dual carriageway from London to within 15 miles of Land's End.
Another long awaited project that gets the go ahead is a £290m to dual the A1 in the north east to Ellingham, 25 miles from the Scottish border.
The Department for Transport has also committed to improve links to the Port of Liverpool, Transpennine capacity between Manchester, Leeds and Sheffield, £350m of improvements to the A27 along the south coast, the M42 on the east side of Birmingham and one-third of the junctions on the M25 orbital London motorway.
Labour responded that the coalition's record was "all talk and no delivery".
Reaction round-up
Paul Fleetham, managing director at Lafarge Tarmac Contracting
"Big ticket projects and major infrastructure spending initiatives must be underpinned by well-maintained local roads, which account for 98 per cent of the UK's highways network. Delivering both in an integrated way is vital to the long term efficiency and sustainability of our roads, and to supporting the UK's ongoing economic recovery. While the Government undoubtedly faces tough spending decisions, a piecemeal and 'stop-start' funding cycle must be replaced with a strategic approach to proactively maintaining and improving our vital road assets."