Independent review will look into the disparity between planning approvals and build outs of new homes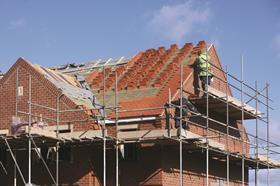 An investigation into the lack of homes being built in spite of planning approval being granted has been launched by the government.
Originally announced in the Autumn Budget, the review led by Sir Oliver Letwin will seek an explanation as to why just over half of the 684,000 homes with planning permission as of July 2016 have been completed.
The government said that currently, after planning permission is granted, a number of factors can prevent development from starting and slow down delivery, and the review wants to determine why.
It will also make recommendations on ways to speed up the build out of new homes and consider how to avoid interventions which might discourage house building or hinder the regeneration of complex sites.
The review will be concluded in two phases. The first, which is currently under way, will look to identfiy the main causes of the gap reviewing large housing sites where planning permission has already been granted.
Phase two will make recommendations on practical steps to increase the speed at which houses are built, which will be published in the full report.
The review will also consider how to avoid interventions that might discourage house building or affect the regeneration of complex sites.
Letwin will be assisted by a panel consisting of Richard Ehrman, the former special advisor to the secretary of state for employment; Lord Jitesh Gadhia, a member of the House of Lords and investment banker; Labour peer and former secretary of state Lord John Hutton; Baroness Usha Prashar, currently deputy chairman of the British Council and non-executive director of Nationwide Building Society; and Christine Whitehead, emeritus professor of housing economics at the London School of Economics.
Housing Secretary Sajid Javid said: "We are determined to build the homes this country needs, but currently there is still a significant gap between the number of planning permissions being granted and the number of homes built.
"This review is vital to helping us understand how we can build more homes quickly."