Comes 12 months after launch of Construction Sector Deal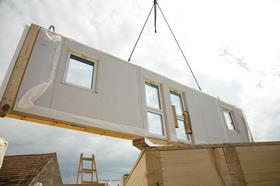 The government has revealed it is kicking off negotiations to set up a built environment sector deal.
In a letter to Bill Hughes, head of real assets at Legal and General, then-housing minister Kit Malthouse and construction minister Andrew Stephenson, said the government is opening formal negotiations with the sector.
The pair said: "We appreciate the sector's tenacity and vision for how industry collaboration can support government objectives and drive the future of the built environment sector.
"Formal negotiations will be shaped by the sector bodies, taking in views of their members over the coming months."
Key points for negotiation:
Delivering more homes and improving housing quality for example through initiatives that support offsite construction;
Improving the sector's productivity through improved access to data and the promotion of PropTech;
Enabling the sector to diversify its workforce through dedicated skills and employment strategies, as well as diversifying its firm base and increasing competitiveness; and
Promoting clean growth and supporting the sector's transition to low carbon
Malthouse and Stephenson said the negotiations would focus on how to build more homes, as well as improving the quality of new builds by increasing the uptake of offsite construction in housing.
The pair also said the sector's productivity will be one of the areas for negotiation.
The announcement comes just over a year after the government revealed the Construction Sector Deal which aims to transform construction through the use of digital building design.