Pipeline will include programmes of prisons, schools, hospitals, infrastructure and MoD work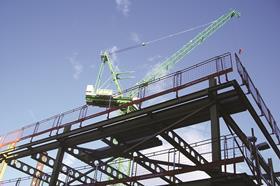 The government is looking to use a revamped private finance mechanism to fund a wave of public projects, potentially including roads and bridges.
Building understands senior officials at the government's Infrastructure Projects Authority are confident a pipeline of projects for the PF2 system – the successor to PFI – will include programmes for prisons, schools, hospitals and improvements to Ministry of Defence estates.
A source close to discussions said it may also be used to finance a number of large individual projects in other areas, potentially including the proposed £2bn A303 upgrade and a mooted Lower Thames Crossing designed to relieve pressure on the Dartford Crossing.
Chancellor Philip Hammond said in the Autumn Statement in November that he would publish a pipeline of PF2 projects in the spring. It is now thought likely some of this will be published in next month's Budget, with other parts of the pipeline not announced until later in the spring.
The PF2 system was devised in 2012 following widespread concern over the operation and ongoing cost of PFI contracts entered into over the previous 20 years. However, just 11 deals have been signed since then, including three health projects, five education schemes, two housing projects and the £1.9bn Mersey Gateway bridge.
If the system were used for the A303 upgrade it would be the first time PF2 has been used for a trunk road scheme.
The reinvigorated PF2 programme will be accompanied by revisions to the standard contract form used in deals, known as SOPC, to be released as early as March. The source said the government is working with the Office of National Statistics to ensure that the new contract form allows for borrowing on PF2 deals to remain off of the government's account balance sheet.
This appears to mark a change in direction from the Osborne era. When in opposition, former chancellor George Osborne had said the government's "first step" in reforming PFI would be "transparent accounting" "to remove the perverse incentives that result in PFI simply being used to keep liabilities off the balance sheet."
A Treasury spokesperson said it would not comment on speculation about next month's Budget.