Funding deal staves off the threat that the company would be wound up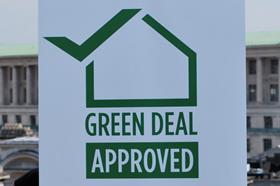 The government has agreed to plough a £34m loan into the Green Deal Finance Company to keep it trading into next year.
The Green Deal Finance Company (GDFC) issues and administers the finance plans that pay for energy efficiency retrofit work on homes under the government's Green Deal scheme.
Its role is crucial as it aggregates plans allowing them to be sold at a low enough interest rate to make the scheme attractive to customers. But the future of the company has been in doubt since its chief executive Mark Bayley warned in September that it "could be wound up" due to a lack of funding.
The company has a £125m credit facility with the Green Investment Bank that is due to expire soon.
Building reported last week that a deal with the government for extra cash was due to be struck "within weeks".
The company said the loan from the Department of Energy and Climate Change announced today would "replace" the funding from the Green Investment Bank.
It said that the finance would allow it to quadruple its current loan book and that it had received £28.9m worth of Green Deal loan applications to date.
Bayley said the DECC money together with existing "funding from private investors" including British Gas, EDF and Scottish Power meant the scheme had "strong backing".
He added: "We are glad that our Green Deal providers now have even more certainty that funding is in place.
"We are now also consulting our investors on our sensible step-by-step plan to enhance the pay-as-you-save model and increase its availability to a wide market. Our growth over the last three months shows the huge potential of our model".