Investment for local infrastructure and housing unveiled by government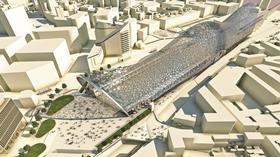 The government has announced £6bn worth of Growth Deals to boost local infrastructure, housing and business support projects.
The main element of the package is a £2bn allocation from central government's Local Growth Fund for the 2015-16 financial year, with the remaining £4bn of investment coming from local councils and businesses.
The funding is expected to kickstart work on more than 150 roads, 150 housing developments and 20 stations.
The Growth Deals have been agreed between the government and 39 local enterprise partnerships, made up of councils and businesses, which have replaced the now defunct regional development agencies.
Specific projects include £18m for the revamp of Manchester Metrolink and £23m for a new road tunnel linking Swindon to nearby Wichelstowe in order to enable construction of thousands of homes in the area.
Funding has also been allocated to Birmingham to help the city prepare to integrate into the HS2 network.
This week the government separately announced it has relaxed housing borrowing restrictions to enable 15 local authorities to borrow £60m of funds over the next two years to help them deliver 1,000 additional affordable homes.
Councils that successfully secured funds included Birmingham Council (£10.6m for 186 affordable homes), Dudley Council (£6.2m for 123 affordable homes) and Wiltshire Council (£2.7m for 90 affordable homes).
Industry experts welcomed the government's Growth Fund announcement, but called for further action.
Jeremy Blackburn, RICS' head of policy, said: "This funding is coming later than expected but is good news right across the country.
"LEPs, cities, and combined authorities now need to be able to put regional and local growth funding behind major development projects including housing."
Alasdair Reisner, chief executive of the Civil Engineering Contractors Association, said: "The funding will go some way to stimulate growth in communities across England.
"However, maintaining this momentum is vital and government must ensure that improving local economies remains at the heart of policy making for years to come."