Chancellor says five schemes will benefit from new government cash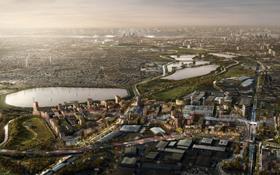 The government is to invest £600m of what it said was new money into building new homes across England.
Chancellor Sajid Javid said the funding would be available through the Housing Infrastructure Fund (HIF) and help pay for new transport links and schools across five housing schemes.
Javid, who established the HIF when he was communities secretary, said he wanted to see more people realise the dream of homeownership.
"But we need the roads, rail links, and schools to support the families living in those homes, which is why I set up a fund to put in place the infrastructure to unlock new homes in these areas."
The five schemes due to benefit from the latest new government cash are expected to produce almost 50,000 homes.
Speaking about the £156m allocated for Meridian Water (pictured) in north London, Enfield council's leader Nesil Caliskan said the success of the local authority's bid reflected "the fact that the government recognises the huge potential" of the scheme.
"The HIF bid is great example of a proactive council working in partnership with public sector stakeholders including the Mayor of London and the GLA to deliver such a massive scheme and securing the infrastructure money that unlocks it's potential," she added.
Last month the borough called on prime minister Boris Johnson to back its housing plans with more taxpayer money.
Caliskan said Enfield, which took back control of the scheme in July last year, had already spent £250m out of its own resources "to drive this project forward".
She added: "This funding will allow us to forge ahead with providing improved infrastructure, including a more frequent train service, which is needed to support this incredible development and deliver real benefits to our residents for years to come."
The five schemes receiving funding
£218m for the Beaulieu station – near Chelmsford – and north-east bypass bid from Essex county council to deliver a new train station and road improvements to unlock up to 14,000 homes
£156m for the Meridian Water bid from Enfield council to deliver rail works, road infrastructure, land remediation, flood alleviation and utilities to unlock up to 10,000 homes
£99.9m for the Tendring Colchester Borders Garden Community bid from Essex county council to deliver a new single carriageway link road and works to unlock up to 7,500 homes
£69.6m for the transformational growth in Biggleswade bid from Central Bedfordshire to deliver a new secondary school and transport infrastructure to get around 3,500 homes started
£80.8m for the East London Line – Growth Capacity bid from the GLA to deliver transport upgrades to unlock up to 14,000 homes