Education to get the largest sum from 2011 to 2015
The government has announced it will spend £22bn on construction projects over the next three years.
The amount of investment drops each year over the period from £8.4bn in 2011/2, to £7.3bn in 2012/3 and £6.5bn in 2014/5.
Education will receive the largest sum of £4.6bn but this sum includes Building Schools for the Future projects which have already been procured.
Highways will get the second-largest chunk of the money, at £4.3bn.The document lists £1.7bn of highways major projects, £1.3bn of maintenance schemes and £1.3bn of PFI schemes for the Highways Agency.
The pipeline document said the Homes and Communities Agency will spend £4.3bn on housing new build and repairs projects over the period.
There will be £2.2bn of health projects including PFI and Procure 21+ schemes.
The figures will be confirmed in the autumn with further details on where the money will be spent. The autumn announcement will be the first of the government's quarterly reportson its pipeline of construction projects.
The government also expects to announce an additional £6bn a year of rail spending during the period, which includes track and power work as well as construction projects. However this will not be revealed until the autumn because construction spending has not yet been separated from total capital spending. The schemes will be paid for by government, Transport for London and Network Rail.
Cabinet Office secretary Francis Maude also announced further details of the new government construction board chaired by Paul Morrell. The efficiency and reform group steering committee will be chaired by Andrew Wolstenholme, incoming chief executive of Crossrail, who will work with task groups chaired by Nick Pollard, Tim Eaton, Deborah Rowland, Mark Bew and Bill Yardley. The infrastructure UK (IUK) steering committee will be chaired by Peter Hansford, working with task groups chaired by Simon Kirby, Professor Brian Collins and Steve Fox.

>> Find out more about the effective implementation of educational policies, plans, spaces, technology and programmes at Building Future Education UK 2012. www.bfeuk.com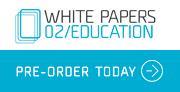 Pre-order to receive it as soon as it's released
Building's new White Paper on the education market will be published imminently, following the government's response to the James Review. It will include analysis of proposed procurement, design and regulatory changes as well as local authorities with the biggest shortage of school places and much more