Review led by former Tory minister Charles Hendry expected to support scheme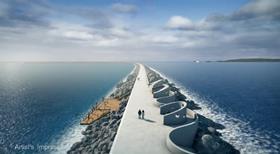 A government-commissioned review into tidal lagoons is likely to back the £1.3bn Swansea Bay scheme, according to reports.
Plans for the project are expected to be supported by the independent review, led by former Conservative energy minister Charles Hendry.
The news comes despite TLP confirming that construction on the project, which was originally expected to begin this spring, has been pushed back again and is now set to start in spring next year.
Sources told the Guardian that when the review is published on Thursday, it's expected to be largely positive towards the "pathfinder project".
The review was filed to business secretary Greg Clark last month. Ministers are expected to respond to it before the Budget in March.
The Swansea Bay scheme is viewed as a prototype which, according to its developers Tidal Lagoon Power (TLP), could provide a "scalable blueprint" for five larger lagoons which together could generate around 12% of the UK's electricity.
The developer said its delay on construction was down to ongoing negotiations with government over a strike price for the scheme.
It has previously been reported that Tidal Lagoon Power was looking for a strike price of £168 per megawatt hour (MWh) for its first lagoon, which would fall to £130/MWh and £92/MWh for Lagoons 2 and 3 respectively, with an average strike price of £111/MWh.