Revised strategy addressing skills shortages and BIM adoption will be published within weeks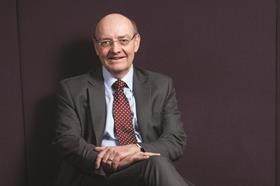 A new government construction strategy focused on improving client skills, tackling industry skills shortages and further adoption of BIM will be published within weeks, Building can reveal.
Speaking to Building, chief construction adviser Peter Hansford (pictured) said the new strategy will be launched "shortly before or after" chancellor George Osborne's Spending Review next Wednesday (25 November).
Hansford said the new strategy will also focus on whole-life costing and whole-life carbon reduction, and improving procurement by encouraging earlier contractor involvement in projects.
Hansford told Building the strategy "continues in the direction" of the previous one launched at the start of the last parliament, but "really takes it to the next level".
A source close to the process said Cabinet Office minister Matt Hancock will take over responsibility for delivering the strategy when Hansford steps down later this month, as a result of his role being discontinued.
When asked to confirm Hancock's role, Hansford said: "It needs a ministerial sign off, so yes there is an involvement there."
The source also said improving client procurement capability will be a key focus, and one proposal is to draw on the expertise of the government's cross-department Complex Transactions Team - which has focused on other areas of procurement, including IT services - on major construction projects.
The new strategy will follow on from the government's previous strategy published in May 2011 by then-construction adviser Paul Morrell, in which it committed to make savings of 20% across public sector construction projects by 2016 and to procure using BIM Level 2.
Morrell told Building: "I would certainly hope there is a reasoned basis for [any proposed measures], rather than another attempt to reinvent the wheel.
"Above all, though, let's have no more damn-fool targets which are there presumably just to catch the eye of politicians and the media."
Commenting on the planned new strategy, Graham Watts, chief executive of the Construction Industry Council, said he supported the Cabinet Office's "great work" through the previous strategy, but said he expected the new one to be "much of the same."
It emerged this week as Building went to press that seven more government departments have agreed to cut spending by about a third.