Government departments agree £11.5bn of cuts as focus shifts to capital spending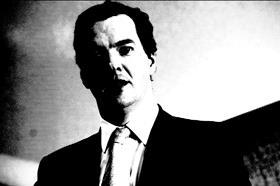 The government is set to commit billions of pounds to major infrastructure projects this week, after the chancellor finalised agreements with all government departments to reduce spending by £11.5bn.
Last night George Osborne said Treasury had now finalised spending reduction with all government departments ahead of the 2015/16 spending review statement on Wednesday, with business secretary Vince Cable and defence secretary Phillip Hammond reported to be the last to agree their departmental cuts.
The government is now expected to shift its focus capital spending, with Treasury chief secretary Danny Alexander set to unveil a programme of infrastructure investment on Thursday, including major transport, education and science projects stretching to 2021.
Ministers are now expected to shift their focus form cuts to growth and recovery. Yesterday Osborne told the BBC's Andrew Marr programme: "I think we are out of intensive care and our job now is to secure the recovery."
We are going to secure recovery and go on prioritising spending on things that help the economy and cut things that don't."
Labour is also set to increase its focus on capital spending, with the party saying it wants to "build Britain out of recession" with an emphasis on housing.
Yesterday shadow chancellor Ed Balls confirmed that Labour could borrow more money to exceed coalition government capital spending plans, while at the same time matching the coalition's departmental spending.