Local MP calls for ministers to do 'everything in its power to assist'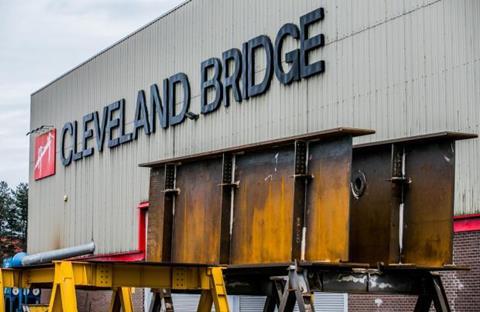 The government should take every possible step to stop the collapse of steel specialist Cleveland Bridge which would risk more than 200 jobs in the North-east of England, a local MP has said.
Andy McDonald, Labour MP for Middlesbrough and shadow employment rights secretary, said: "It would be a tragedy to lose the phenomenal skills and collective knowledge within the company and given that the order book is healthy, there is a bright future for Cleveland Bridge.
"I would urge the government to do everything in its power to assist in whatever way it can. It is imperative for our sustained prosperity in the years ahead that the building and manufacturing sectors in the UK are made a priority."
McDonald's warning comes a day after the stricken firm collapsed into administration with the pandemic being blamed for its woes.
Administrator FRP, which was appointed yesterday, warned that the £48m-turnover business would be wound up if a buyer could not be found soon.
The firm's 220 staff at its Darlington headquarters were told yesterday they were at risk of redundancy.
A further 98 are employed as contractors in Darlington and various other sites across the country.
FRP Advisory is now trying to put together a rescue plan for the firm, which was set up in 1877 and whose previous of jobs include the Sydney Harbour Bridge, the Severn Crossing and the Wembley Stadium arch and roof.
In a statement, FRP said: "The joint administrators will now market the business for sale and engage with CBUK's clients to discuss continued support on live projects. The administrators will engage with staff and decisions will be made on any necessary redundancies."
Other politicians have come out in support of the firm's staff, including Tees Valley mayor Ben Houchen, Sedgefield MP Paul Howell and Darlington MP Peter Gibson who issued a joint statement on Wednesday night when news broke the firm had run into problems.
The trio said: "Our number one priority right now is making sure that Cleveland Bridge's 200 members of staff, and their families, are supported at this difficult and uncertain time, and we will be working with Darlington council and government to ensure they get whatever support they need.
"The company has a full order book for the next 18-months, this coupled with the firm's history, expertise and highly skilled workforce makes us optimistic that a buyer will come forward quickly for this iconic business. But it is critical that local jobs are protected as part of any deal to buy Cleveland Bridge."
The company, which has been majority owned by Saudi Arabian Al Rushaid Group since 2002, reported a £457,000 pre-tax loss in its last set of accounts for the year to December 2019 on turnover up 30% to £48m.
In the accounts, the firm warned that "political uncertainty, in both the UK and Sri Lanka [where it has several jobs] in early 2019, meant [there had been] delays on project starts".