Households to receive up to £650 per energy efficiency measure installed in bid to incentivise take up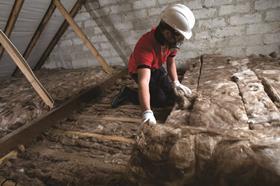 The government has unveiled details of a £125m cash-back scheme to support uptake of the Green Deal, with households able to receive up to £650 per energy efficiency measure installed.
The scheme, announced by energy secretary Ed Davey today, will see households receive up to £650 per energy saving measure installed through the Green Deal, depending on what measures they install.
The cash-back rates the government has published today will apply from January 2013 until the first £40m of the scheme is used-up.
Customers will only be able to get the cash-back offer if the work is done by an approved Green Deal installer.
Davey said: "This cash back offer will help get the Green Deal off to a flying start.
"The Green Deal presents a great opportunity for businesses of all sizes to take advantage of this transforming market – and now is a critical time. Whatever your business does in this sector, the Green Deal will have an impact. So I say to businesses large and small – gear up, get training and get ready to take advantage of the Green Deal."
Social and private landlords will also be able to access the scheme.
Andrew Warren, director of the Association for the Conservation of Energy, said he thought it would "provide a welcome stimulus to the marketplace".
He added: "I am glad that, whilst only measures installed via an official Green Deal provider can qualify, the government is deliberately not excluding those who opt to pay for energy saving measures without taking out a formal Green Deal finance package."
| | |
| --- | --- |
| Energy Saving Measure | Cashback level |
| Loft insulation (incl.top up) | £100 |
| Cavity Wall Insulation | £250 |
| Solid Wall Insulation (Must comprise 50% of walls) | £650 |
| Flat roof insulation | £390 |
| Room in roof insulation | £220 |
| Floor insulation | £150 |
| Hot water cylinder insulation (top up) | £10 |
| Draught proofing | £50 |
| Heating controls (roomstat and/or programmer & time/temperature zone controls) | £70 |
| Condensing oil boiler from non-condensing oil heating or other | £310 |
| Upgrade boiler to condensing gas boiler from non-condensing boiler or other. | £270 |
| Flue Gas heat recovery (condensing combi boiler) only alongside replacement boiler | £90 |
| New or replacement storage heaters | £150 |
| Replacement warm-air unit | £60 |
| Waste water heat recovery systems | £60 |
| Double/Triple Glazing (old single to A) | £20 per m2 up to a maximum of £320 |
| Secondary glazing | £15 per m2 up to a maximum of £230 |
| High performance replacement doors | £40 |