Twenty groups of local authorities handed greater powers over planning and economic development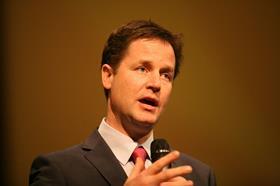 Deputy prime minister Nick Clegg has given the green light to hand planning and economic powers back to 20 groups of local authorities in a move which could move boost a variety of construction projects.
The plan is part of the City Deals programme which is part of the government's attempts to devolve greater planning and economic power to authorities in exchange for strong business plans.
Among those in the new wave of 20 local authority groups to get permission to negotiate a deal were Southend and South Essex which wants to increase housebuilding in the area; Milton Keynes and the South East Midlands which plans to also increase housebuilding to create construction jobs and Hull and Humber which plans investment in offshore wind farms.
A raft of other authorities are set to increase manufacturing capability, which may entail construction of new facilities.
In a speech at Mansion House in London last night Clegg said the plans would result in "once in a generation" changes to the economies in the city regions.
"Rather than let our industries and communities wither, we need to free up cities outside of London that have their own unique selling points," he said.