Nick Smallwood says for link to go ahead rail passenger numbers need to recover to pre-covid levels
The chief executive of the government's most senior advisory body for infrastructure has cast doubt on the second phase of HS2 linking the line to cities in the north of England because of the impact of the pandemic on passenger numbers.
Nick Smallwood said that road transport after the pandemic could return to higher levels than before and suggested the government should not invest in an extension of HS2 north of Crewe "unless there is a very solid business case".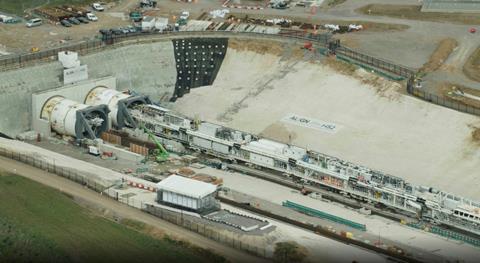 Phase 1 of the line from London to the West Midlands and phase 2a from the West Midlands to Crewe have been given royal assent, with a huge tunnel boring machine (TBM) starting work on the 10-mile long Chiltern tunnels this week.
But phase 2b, which would continue the line in two branches to Manchester and Leeds, has not yet been approved. The total cost of the completed project is currently estimated to be around £100bn.
Asked by Conservative MP for Buckingham, Greg Smith, if major rail infrastructure projects should be shelved until rail passenger numbers, which fell by as much as 95% last year, return to pre-pandemic levels, Smallwood said the government should take a "hold and see" approach.
He told a committee of MPs yesterday: "If you look at projects like HS2b, it's many, many years away, it doesn't even have royal assent yet, so there is an opportunity to see what the recovery from the pandemic looks like."
But asked if current infrastructure projects including HS2 phase 1 should be paused until the full impact of the pandemic on transport patterns is understood, Smallwood said it was uneconomical to do so.
"It will cost you far more taxpayer's money and really destroy value for money if you pause a project rather than continue and look for opportunities to take cost out and add value. So that challenge is being put to HS2 phase 1."
Smallwood was speaking during a session of the cross-party transport committee on the impact of covid-19 on the viability of major infrastructure projects.
The giant TBM starting work this week under the Chilterns is part of the Align joint venture's £1.6bn tunnels and crossing contract in the region. Align is made up of Bouygues, Sir Robert McAlpine and VolkerFitzpatrick.
Earlier this week, another huge deal was let on the railway with a Mace/Dragados team winning a £570m contract to build a new station at Curzon Street in the middle of Birmingham.