Developer anticpates starting three new schemes next year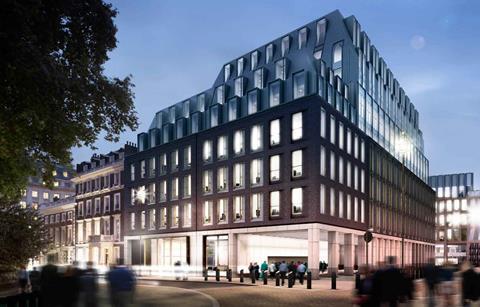 Great Portland Estates (GPE) is readying three schemes with a combined gross development value of £233m to start within the next nine months.
The London-focused developer, which also reported a return to profit in the first six months of its current financial year, said it had agreed with Crossrail further access to its site at Hanover Square (pictured) to undertake enabling works.
The agreement also enables GPE to start construction on the New Bond Street building in the first half of next year. The scheme, a joint venture between GPE and the Hong Kong Monetary Authority, would provide 167,200ft2 of office space and 32,700ft2 of retail space.
GPE also confirmed that a planning application has been submitted for a new build scheme at 76 Oxford Street.
The plans would provide 78,100ft2 of office space and 38,400ft2 of retail space at the eastern end of one of London's major shopping streets. Subject to planning, this could start on site in the first half of 2018.
GPE is also looking to improve on existing planning consents at Cityside House in Whitechapel, which it acquired earlier this year.
The building currently has planning approval to add three new floors, increasing the internal area from 22,200ft2 to 76,500ft2 and land to the rear of the building has planning approval for a 19,000ft2 hotel and residential scheme.
Demolition works are already underway at the site and it is expected that the redevelopment of Cityside House will start early next year with completion due in 2019.
GPE also has a medium term pipeline of 13 schemes totalling 1.3m ft2 of space it is looking at for the next construction cycle. The schemes include New City Court at the London Bridge Quarter and Mount Royal at the western end of Oxford Street, where plans are being drawn up to redevelop the two-acre site.
The annoucnements come after GPE reported a pre-tax profit of £22.8m for the six months ending September, up from a loss of £62.7m during the same period a year ago. Revenue also increased 14% to £65.4m.
Toby Courtauld, chief executive at GPE, said the firm was pleased that "our key financial performance measures are moving in the right direction", adding that its future development opportunities are "stronger than ever".