Work to begin on site at the end of the month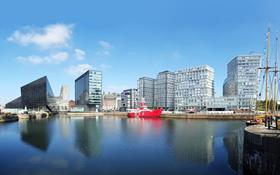 Graham Construction is set to deliver a 383-unit build to rent development on Liverpool's waterfront.
The construction firm was selected as contractor on the job (pictured) by the joint venture behind the scheme Patten Properties and Panacea Property Development.
Strand House, the four-storey building that occupies the site, will be demolished at the end of this month when Graham starts on site works.
The building has been designed by Leach Rhodes Walker Architects while Invesco Real Estate has provided forward funding on the project.
Situated on The Strand, the scheme will feature 163 one-bed apartments, 187 two-bed apartments and 45 three-bed apartments, as well as a private gym and roof terrace.
Neil Patten, managing director of Patten Properties and Panacea Property Development, said: "We have owned the site for a long time and worked very closely with Liverpool city council to ensure that our plans for this important scheme were in line with their own high aspirations for the site and the wider area."
The project is expected to be finished in 2020.