Contractor to build new biomass terminal at the Port of Liverpool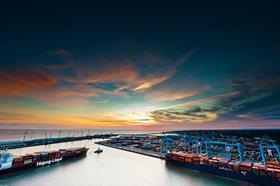 Graham Construction has won a £100m contract to build a new biomass terminal in the Port of Liverpool.
The facility, which could create up to 300 jobs in construction and the supply chain, is due to open in October this year and be fully operational in July 2016.
It will handle up to three million tonnes of wood pellets a year, which will be used as biomass fuel for a newly-decarbonised Drax power station in North Yorkshire.
The pellets will be shipped to Liverpool from North America, and then sent by rail to the Drax power station.
The Drax is being converted to burn biomass fuel instead of coal, the largest decarbonisation project in the EU.
Leo Martin, executive director at Graham, said: "This project builds on the experience we have gained from building similar facilities on the east coast of England.
"We will be designing and building a state of the art plant which will employ industry-leading technologies to ensure that the facility can be safely operated and maintained."
He added: "Securing this project is very important to us as it cements our position as one of the leading contractors in the biomass handling industry in the UK."
The terminal is being built as part of client Peel Ports' growth plans for the Port of Liverpool.
It has already invested £300m to create a big, deep water container terminal, called Liverpool2.
Lendlease are the main contractors on the project, with a Bam Nuttall and Van Oord joint venture also working on the terminal expansion, which is due to be operational towards the end of this year.