Contractor will restore and extend Grade II* listed buildings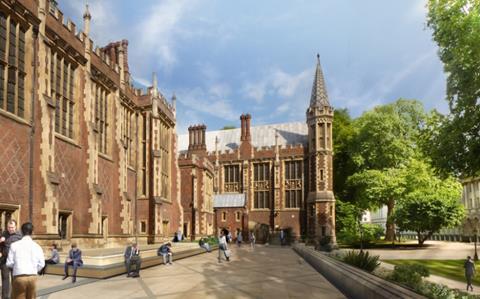 Graham Construction has won a £20m job to restore and extend Lincoln's Inn's Grade II* listed Great Hall and Library in Holborn, central London.
The project, designed by Rick Mather Architects, represents the single biggest project since the Great Hall and Library's original construction, in 1845 and 1873 respectively.
They will be carefully restored and refurbished to preserve future use, alongside the construction of two sensitive extensions to add to the Inn's educational facilities.
Work is due to start on site next month and complete in December 2017. The client is the Honourable Society of Lincoln's Inn and the scheme sits in the Bloomsbury Conservation Area in High Holborn.
The Great Hall currently houses the Inn's principal dining hall, member's common room, associated catering and event facilities, visitor reception and administrative support offices.
Works will include the reopening of the main entrance door, an upgrade of the kitchen, drainage and damp proofing and the original configurations and finishes will be reinstated and conserved.
A 1,247 sq m, two-storey extension will be constructed below ground under the East Terrace of the Great Hall. A day-lit basement will provide much-needed state-of-the-art teaching facilities comprised of a large, multi-purpose lecture theatre and mooting space, 10 flexible advocacy training rooms, quiet study and break-out areas, and additional social meeting spaces.
The new four-storey Library extension will be contiguous with the existing building, offering an additional 565 sq m space for books, an archive, a reading room and support spaces. With one floor underground and three above, it will provide step-free access increasing the access to the collection from 30% to 80%. The new education centre will double the size of the existing space and accommodate the growing educational programme.

Philip Ardley, interim director of estates at The Honourable Society of Lincoln's Inn said: "This is a very exciting, but complex and potentially sensitive project, for the Inn. We are very much looking forward to working with Graham Construction to deliver this, whilst making every effort to respect the challenges that this will bring to our tenants."
Rob Joyce, Graham Construction's London office director, said: "Lincoln's Inn is a longstanding institution that prepares future barristers for Call to the Bar. The conservation and extension works will preserve and enhance the building for future students and add to the vital functions it provides to its members and the judiciary.
"The restoration of such a significant historic and architectural property requires great skill and makes this a highly rewarding project for our team."