Shadow transport secretary says confidence in Carillion was "disastrously misplaced"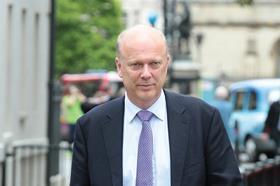 Transport secretary Chris Grayling has dismissed claims he made the wrong decision lavishing two HS2 contracts on ailing contractor Carillion just days after they announced an £845m writedown last July.
The collapsed contractor landed two slots on the project with joint venture partners French firm, Eiffage, and Kier, worth £1.4bn.
Shadow transport secretary Andy McDonald asked Grayling if he now accepted "that he got it spectacularly wrong and that his judgement and that his confidence were disastrously misplaced".
But Grayling (pictured) told MPs: "I don't accept that at all. At the time, I reviewed those carrying out the contracting very carefully, and I have carried out due diligence since.
"The HS2 project will not be affected by this, even to the point, I am pleased to say, that the apprentices working with Carillion on the project are being transferred to one of the other two partners. The work will continue uninterrupted. There is no delay and there are no cost implications..
"The contracting with Carillion was actually not with Carillion, but with a consortium of companies that are equally responsible for delivering the contract and will do so."
Carillion was heavily involved in the rail sector being Network Rail's second biggest contractor.
Carillion continued to win Network Rail deals as its financial situation worsened, landing a £260m contract for the Midland Mainline Electrification programme as recently as November.
Earlier this week, bosses at the HS2 railway said they are not expecting the joint venture team to go out and find a replacement builder.
A source said: "The whole point of joint ventures is they give you extra robustness. It's why we encourage them in the first place."
He added that HS2 is confident Kier and Eiffage will be able to carry out the work between them and said it would need to approve the appointment of a contractor lined up to replace for Carillion.
Construction work on the two deals to dig tunnels through the Chilterns on the line between London and Birmingham is expected to start next year.