Transport Secretary labels suggestions that the second stage of the controversial rail project might not happen as "completely inaccurate"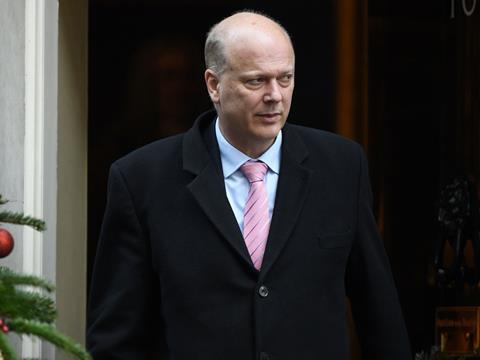 Transport secretary Chris Grayling has promised that the government is fully committed to second stage of HS2, which would see the high-speed railway stretch beyond Birmingham to the north.
Speaking at a House of Commons reception yesterday (24 January) Grayling (pictured) said reports that the northern phase of the project was in jeopardy were wrong.
He said: "You may have seen media stories suggesting that the second stage of the project might not happen. Those stories are completely inaccurate.
"High Speed 2 is vital beyond Birmingham and failure to deliver it would be a dereliction of our duties to improve the life chances of everyone in this country."
Grayling said a decision to bin plans to extend the line north of Birmingham would be a "huge betrayal of the people in the Midlands and the north".
The transport secretary told the Securing HS2 for the North and Midlands event that reports he had floated the possibility of scrapping the next stage of HS2 at another event were incorrect.
He said: "In fact I said we must keep on making the strategic case for HS2 and work hard to win over the public about its potential benefits.
"Let me reiterate. We are committed to a second stage between the West Midlands and Leeds and between Crewe and Manchester, completing the 'Y axis'."
Grayling was speaking at an event organised by Transport for the North, Core Cities and Midlands Connect after local authorities and businesses across the Midlands and the North published an open letter calling on political leaders to commit to completing Phase 2b.
Phase 2b of the project is set to see high-speed rail services run from Crewe to Manchester and Birmingham to Leeds, via the East Midlands.
Phase 1 will link Birmingham and London, while Phase 2a will connect Birmingham and Crewe.