MPs criticise Network Rail's management of major projects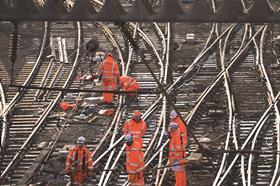 The Public Accounts Committee has launched a withering attack on the government's programme to modernise and electrify the Great Western rail route, citing serious failings in the project's design, planning, and cost estimation.
MPs found that costs rose by a "staggering" £1.2bn in the space of 12 months and said it was unclear whether the project could even be delivered by the end of December next year and within the allotted £2.8bn budget.
In a damning report the PAC warned that "significant flaws" identified in the project had raised concerns about the ability of the Department for Transport and Network Rail to manage similar projects in future.
These include the planned electrification schemes on Midland Main Line and TransPennine routes.
Network Rail "must improve its ability to produce realistic cost estimates", the committee said, "and make sure that robust and detailed plans are in place for infrastructure projects before starting construction".
And the Department of Transport ought to reassess the case for electrification section-by-section and fund schemes "only where worthwhile benefits for passengers could not be achieved otherwise at lower cost".
The Department and Network Rail "must plan major developments to rail services in a way which brings together trains, infrastructure work and the operation of services, obtaining independent assurance on their plans".
Chair of the PAC, Labour MP Meg Hillier, said: "Mismanagement of the Great Western programme has hit taxpayers hard and left many people angry and frustrated.
"This is a stark example of how not to run a major project, from flawed planning at the earliest stage to weak accountability and what remain serious questions about the reasons for embarking on the work in the first place."
Hillier described the sums of public money wasted, including £330m additional costs to be met by the Department of Transport just to keep the trains running because of delays to electrification as "appalling".
The government accepted it had got the project "badly wrong and must now demonstrate it has learned the lessons".
"Electrification was heralded with the promise of benefits to passengers but the Government has a duty to determine if, in fact, these benefits can be delivered in a more timely and cost-effective way," she added.